On my New Frontier Armory billet side charge AR-15, I utilized many high quality components. Some of the key components are from Primary Weapon Systems. Primary Weapon Systems are best known for their gas piston semi auto rifles. They mated design elements from the AK gas system with the AR rifle to make a very reliable and accurate semi auto platform. In addition to their line of semi auto 5.56mm and 7.62mm rifles they also manufacture very high quality parts for direct impingement rifles. When I learned of this I was very excited because it allows me to improve AR-15 rifles I already own.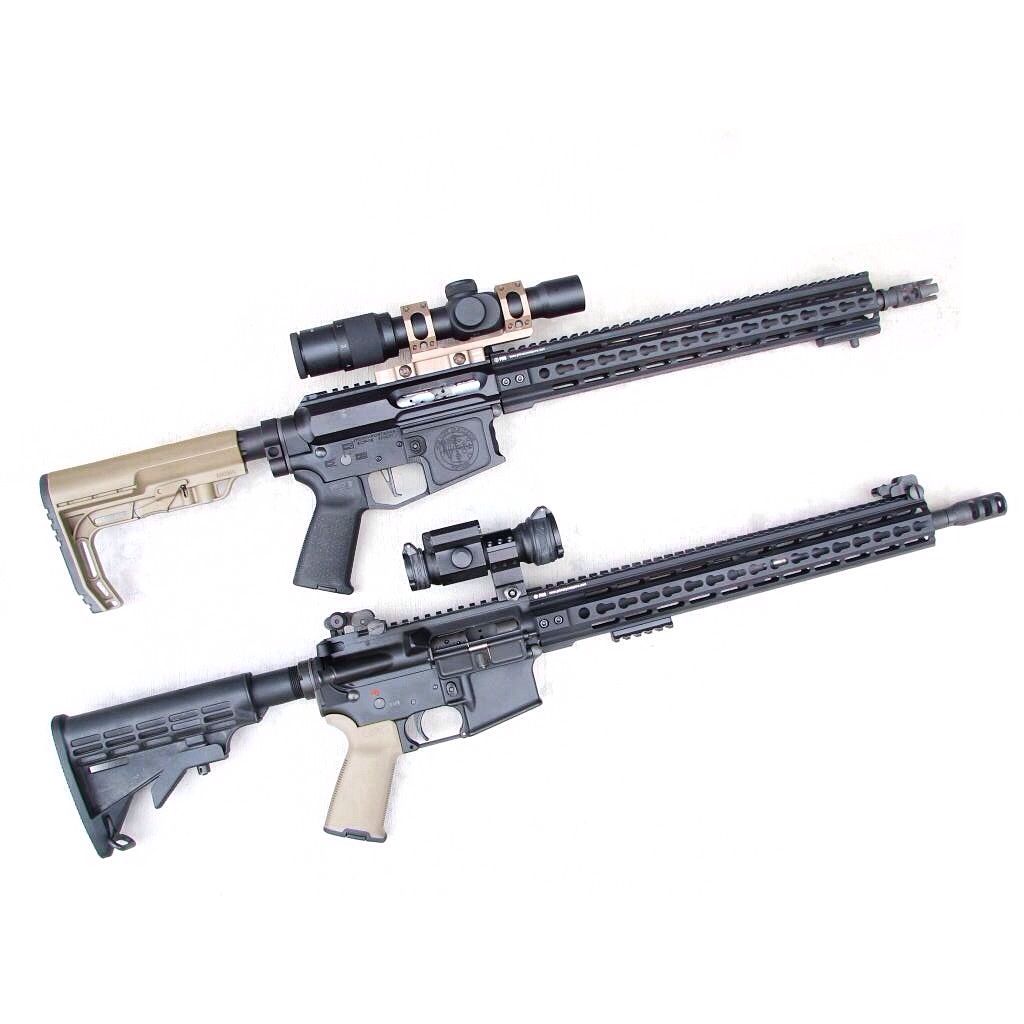 One of the main PWS components I'm using is the 16.1" mid gas length barrel. The barrel's muzzle is threaded 1/2×28 tpi and has a 1-8" twist. The 1-8" twist gives you the ability to shoot a broad range of bullet weights. Primary Weapon Systems starts off with high quality chromoly barrel blanks which they cut in house. The barrels are button rifled and Isonite QPQ treated for hardness, corrosion resistance, and longevity.
One of the first things I noticed about the barrel was the contour/profile. The contour is lighter than I thought it would be. Engineers at Primary Weapons designed the barrel contour to be lightweight without jeopardizing accuracy. The barrel has a .223 Wylde chamber that will have no problems digesting commercially loaded 5.56x45mm or .223 Remington ammunition. My rifle shoots exceptionally well with the ammunition I have put through it. The loads have ranged from 77 gr. Federal Gold Medal Match to polymer core frangible training ammunition. I plan to mount my US Optics MR-10 and develop a load for it. I'm a long range bolt gun shooter, so you know I have to see how far I can consistently hit targets with my carbine (475 yard up to this point). I will publish those results as a separate article with a focus on the accuracy of the rifle.
To protect my hands from a hot gas tube, gas block and barrel I went with the Primary Weapons 15" KeyMod hand guard. I really like how the KeyMod system allows for the hand guard to be kept nice and narrow, while still offering the modularity of a quad rail. The PWS hand guard completely free floats your barrel and has an integral 1913 rail at the 12 o'clock position. The KeyMod offers a lot of flexibility especially when using it in conjunction with PWS KeyMod products like the Harris bi-pod adapter. I find the PWS KeyMod hand guard to be comfortable and the "cheese grater" feeling some people complain about is a non-issue for me.
When I first pulled the KeyMod hand guard out of the package I was impressed by how light and rigid it felt. Included with your Primary Weapons KeyMod hand guard are two pieces of KeyMod 1913 rail, Locktite and the necessary tools/instruction to install the rail. PWS uses a trunnion system to attach the hand guard. I really like this set up because it is easy to remove the hand guard after everything is installed. I'm using an adjustable gas block on my rifle and when "tuning the gas" its easiest to work on it with the hand guard removed. Removing the hand guard from the trunnion is very simple, you just loosen and remove 6 Allen screws, and pull the hand guard straight back. The hand guard will slide off the trunnion giving you access to the gas tube, gas block and barrel. When you are done making adjustments you do not have to re-align anything, the hand guard simply slides back on to the trunnion and you re-install the screws. The KeyMod hand guard is available in different lengths to suite your preferences. I went with the 15" because I like having a lot of surface area I can grab on to without burning myself, ascetically I also think is looks really good.
To wrap up the front end, I went with the FSC556 muzzle brake. I have been a fan of the brake since they first came out on the FN SCAR rifle (at the time I had no idea the brake was made by PWS). The FSC556 is a very effective and comes threaded 1/2×28 tpi (female). The muzzle brake is an important component when your goal is to remove as much muzzle movement as possible. I believe the FSC556 muzzle brake and PWS 16.1" mid gas barrel make an excellent combination for a "soft" shooting rifle. Why do I want it to be soft? So I can shoot fast and accurately! Another great feature of the FSC556 muzzle brake is that it can be mated with the Gemtech HALO system for attaching suppressors to your rifle. This is neat because you do not have to remove your muzzle brake then install your suppressor. The HALO system found on the Gemtech Triad 556 interfaces directly with the FSC556 muzzle brake.
The final Primary Weapons component used on my New Frontier Armory billet side charge rifle is the Enhanced Buffer tube. The first feature that drew me to this product is that the EBT eliminates the castle nut. The Enhanced Buffer Tube uses index screws and a plate making aligning the buffer tube very easy. Primary Weapons has also incorporated flush cups in the design giving you more sling mounting options. Other features of the EBT are centered on eliminating carrier tilt. I am not going to pretend to have an expert understanding of carrier tilt. I know it was a prolific topic when gas piston conversions and gas piston ARs began hitting the market. PWS engineers have incorporated a lip on the buffer tube which extends into the lower receiver. They have also incorporated indentions into the tube that help guide the BCG.
I am very happy with the Primary Weapon Systems direct impingement parts used on my rifle. The components have come together to form what I feel is a great DI semi auto rifle. These parts are very well made and designed to exceed current standards. Primary Weapon Systems is located in Idaho and is a relatively small manufacturer. I feel the quality products and innovative thinking will ensure PWS can only grow from here. I have been a Primary Weapons fan since Byron at Delta P Design first introduced me to his Mk 117 Diablo, and after my experience with their DI parts I have become more of a fan. If you are looking to update an older AR-15 like what I have been doing with my Bushmaster LEM4A3, or if you are interested in a complete DI Primary Weapons upper then I suggest you visit PrimaryWeapons.com and see what they offer. Local Las Vegas residents are fortunate because New Frontier Armory is a PWS distributor!