www.PRGDefense.com
U.S. Distributor
Potomac River Group
703-771-3003
Rapid Targeting and Ranging Module (RAPTAR ES):
The RAPTAR ES (Rapid Targeting and Ranging Module) available from PRG Defense is an incredible piece of equipment. This version is equipped with a Class I IR laser making it available to civilians and not restricted by the F.D.A. The RAPTAR ES is a; visible laser aiming device, IR laser aiming device, IR illuminator and powerful laser range finder in one rifle mounted unit! Whether used in conjunction with night vision or as a daytime standalone laser range finder, this device is impressive! When I took possession of it, I could not help but head out to the desert while it was still day light. I could not wait to begin using it. The device is very easy to zero using the visible red laser and its 0.5 MRAD coaxial elevation and windage click adjustments.
The RAPTAR ES is only 10.8 ounces. That seems very light considering everything this unit encompasses. The size is comparable to a 10 round AICS magazine. When the unit is first attached to your rifle it can seem obtrusive, but when you use the laser range finder and other devices you quickly write off any obtrusiveness as "function over form". The green electronic display on the back of the RAPTAR ES displays range to target and what mode the unit is operating in. Using the controls you can easily switch between; laser range finder, visible laser, IR laser, IR illuminator and dual IR laser/Illuminator modes.
During daytime or night time use the integral laser range finder is worth its weight in gold to a long range precision rifle shooter. Having an accurate range to target is a huge aid when your goal is to achieve a first round hit. The RAPTAR ES unit attaches to any MIL STD 1913 and STANAG-4694 rail. Once the unit is attached and zeroed you can easily, accurately and reliably get the range to target. The LRF (laser range finder) in the unit is effective out to 1,600 yards with a 1 meter degree of accuracy. The range to target is displayed on the back facing the shooter. The convenience of a rifle mounted LRF is noticeable immediately. Typically your LRF is another piece of gear you keep in your bag. When the LRF is mounted to your rifle it physically is a part of your "rifle system". By that I mean, if your rifle, optic and ammunition make up a system which allow you to impact targets at long range. Then the LRF capability of the RAPTAR ES quickly augments the abilities of that system. You no longer think of your LRF as an additional piece of gear. I like being able to get behind my rifle, get on glass and quickly begin ranging targets. I can easily go from ranging targets to engaging and impacting targets at long range.
Another useful device built into the RAPTAR ES is the visible red laser. The VRL (visible red laser) offers a visible down range representation of where the rifle bore is aimed. The intensity of the visible red laser ranges from 0.7 mW to 5 mW. This allows it to be visible during the day time (in day mode) at high noon and not overly bright during low light conditions or darkness. Once the RAPTAR ES is zeroed  you are ready to use all of its functions including its IR devices for night vision users. When I sight in the RAPTAR, I do it at 100 yards. I have measured the device off set in relation to the center of the main tube of my rifle scope. This off set is dictated my your chosen mounting position. Once my rifle is zeroed, I turn on the VIS red laser and set its position to the same measured off set from my point of aim/point of impact at 100 yards. What this does is ensure the beams from the lasers will remain parallel with my line of sight through the rifle scope. Knowing the laser position is in the 4th quadrant of my reticle I can easily bracket the target and laser it.
Many night vision units available to civilians will give you a limited capability. That capability is dependent on which type of night vision unit you are using, the quality of its tube and the available ambient light. The IR illuminator on the RAPTAR ES will increase the distance in which you can accurately identify and engage targets. This is done with non visible infrared energy emitted by the unit. The IR energy is visible through your night vision device and illuminates objects down range. The strength or "power" of the IR energy emitted is restricted to Class I levels. Please note if you are accustom to using MIL/LEO grade IR and NV equipment (Class III/IIIB) the RAPTAR ES and civilian legal NV (Class I) will be noticeably less powerful.
The IR aiming device works just like the visible red laser but can only be seen while using night vision. This lets you and others utilizing night vision have a visual reference of where your rifle bore is aimed. The IR illuminator on the unit is a beam of energy that you can adjust from a "flood" to a more focused beam to aid in target identification. Think of it as an infrared flash light. The IR illuminator and IR laser can also be used simultaneously. The RAPTAR ES works with all night vision devices.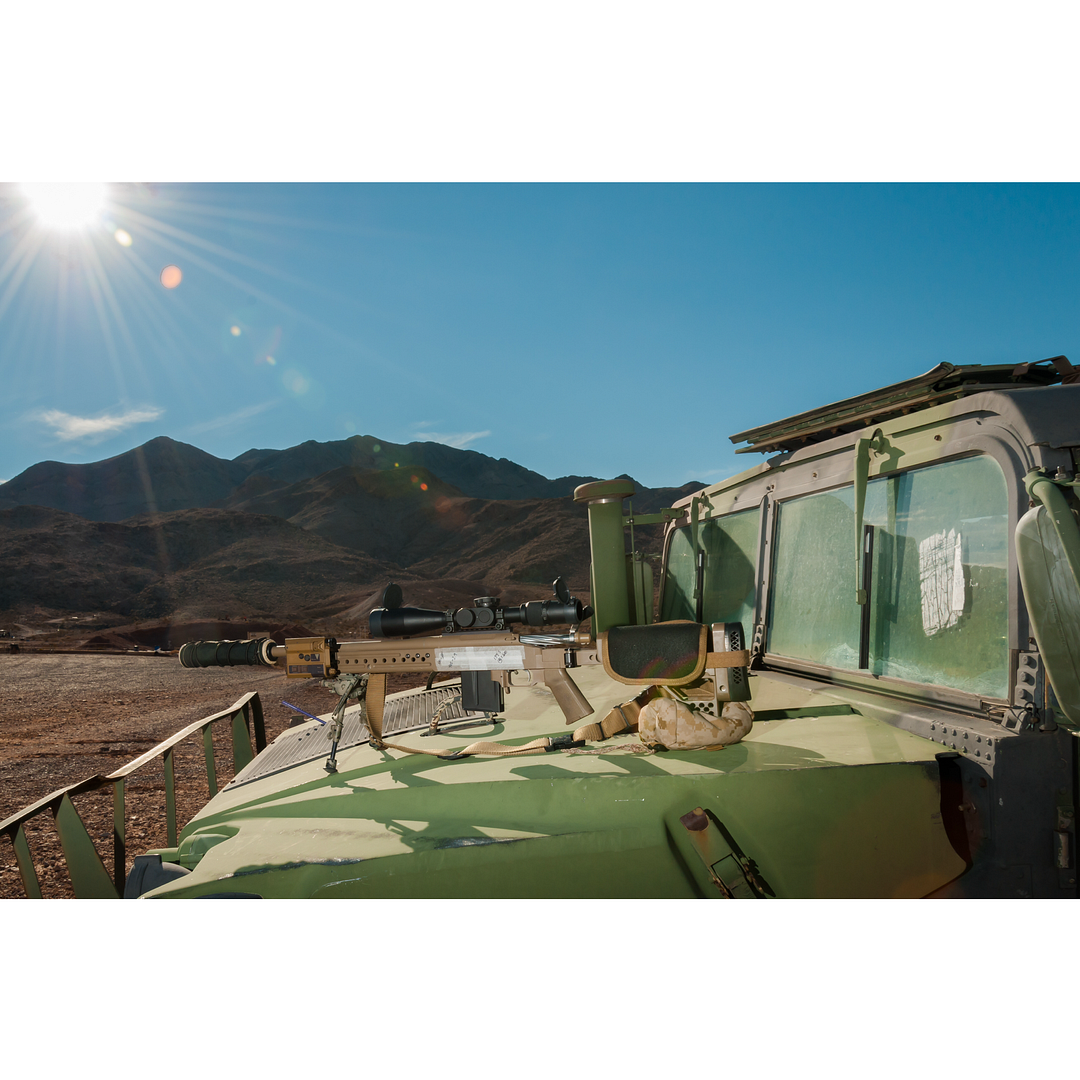 I really like the RAPTAR device. I will own one in the future and use it in conjunction with night vision. If you currently own a night vision device I highly recommend this product. The RAPTAR is simply hard to beat. The highly capable laser range finder and array of laser devices give you a lot of tools to work with. I like the 1,600 yard capable LRF mounted to my rifle and aimed with my rifle scope. When I cannot laser a target from my shooting position, I can easily detach the RAPTAR using the QD mount and utilize the integrated sight to aim the device like a conventional LRF. If you do not nail your target on the first beam the device will detect up to three ranges and allows you to scroll through the different detected ranges. The only thing I found undesirable with the RAPTAR was how the device and mount interfaced. The quick detach mount is well made and high quality. The area I was not crazy about is where the RAPTAR and mount come together. I experienced a little bit of flex or movement which would slightly change where the laser was pointed. The majority of the time the laser was fine but on occasion it would be significantly misaligned and the beam was no longer parallel with the line of sight of my rifle scope. This was easy to correct by giving the device a bump, but it seemed odd I would need to do that. Fortunately we have various mounting options for the RAPTAR laser device. The one I am most curious about is from Spuhr. The Spuhr mount puts the device just above your rifle scope. The feedback I have gotten from folks who use this set up has been overwhelmingly positive and I like how the device is mounted closer to the center line of the rifle scope. When I purchase a unit for my personal use I plan on utilizing a Spuhr mount set up. I have greatly enjoyed my time with the RAPTAR laser device. I am incredibly thankful to Mike at PRG Defense for giving me the opportunity.
Features:
Laser range finder: Min. 5.5 yards-Max. 1,639.5 yards (+/- 1.1 yard accuracy) Visual laser: Red visible laser 0.7 mW (low)- 5 mW (high) IR laser: 0.7 mW max (Class I) IR illuminator: 0.7 mW max (Class I) Windage/Elevation adjustments: 0.5 MRAD
Spec:
Power source: 3V CR123 battery (1) Wight: 10.8 oz Size: 4.5"x3.19"x1.75" (comparable to a AICS 10 round magazine) Water resistance: Water proof to 1 meter Sight Plane above Rail: 0.930" Battery life: Over 7 hrs on Dual High IR only MSRP: $6,500.00
What is a Class I laser?
A Class I laser is any laser or laser system containing a laser that CANNOT emit laser radiation at levels that are known to cause eye or skin injury during normal operation.
What is a Class III or Class IIIB laser?
A Class III/IIIB laser is hazardous when the eye is exposed, usually no hazard to the skin. Diffused reflections are usually safe. Wear eye protection within NOHA standards. The increased energy level of Class III/IIIB IR illuminators is why they are more effective.